Corporate Snapshot
Time Manufacturing is a leading global manufacturer of vehicle-mounted aerial lifts, digger derricks, bucket trucks, and bridge inspection equipment.
Through its strong Versalift and Aspen Aerials brands, it is widely recognized for quality, value, and innovation.
The company has a strong track record of consistent high quality and strong product development and engineering capabilities
Top 3 market position in the key Telecom and Electric Utility Distribution end markets
Comprehensive portfolio of aerial lift products with various platform capacities and vertical reach allows workers and technicians to safely operate at heights from 20 to greater than 200 feet with load bearing of 400 to 750 pounds
Manufacturing operations in Waco, TX and Denmark, with global network of distribution/upfitting facilities

 

Deep and loyal customer base of telecom and cable companies, electric utilities and municipal authorities accessed through a diverse go-to-market channel mix to meet steady, replacement demand
Global Reach
Time Manufacturing's principal manufacturing facility is centrally located in Waco, TX, with additional manufacturing in Farso, Denmark.  These locations provide:
Proximity to key suppliers
Strong transport network to both domestic and international markets
Farso, Denmark provides assembly and manufacturing operations for international markets
Time Manufacturing leverages an extensive network of domestic and international Company-owned distributors, providing broad market access
Deep technical knowledge with teams composed of experienced engineers to ensure highest standards of design and performance
Broad geographic footprint with proximity to key suppliers along with company-owned distribution footprint provide strong barriers to entry
In the U.S., third-party distribution channels provide comprehensive market coverage through long-standing relationships and brand awareness
Corporate Structure
Time Manufacturing Company sells aerial lifts through Direct Sales Unit, through Company owned distribution, and through Third Party Distribution.  Time Manufacturing's Aspen Aerial Unit manages manufacturing, assembly, and world-wide distribution through its Duluth Minnesota facility.
In February of 2017, The Sterling Group, a middle market private equity firm based in Houston, Texas, acquired Time Manufacturing Company.  Sterling has sponsored the buyout of over 50 platform companies and numerous add-on acquisitions for a total transaction value of over $10.0 billion. Currently, Sterling has over $2.2 billion of assets under management. For further information, please visit www.sterling-group.com. With renewed investment, new leadership, and the formation of a International Growth Strategy, Time Manufacturing Company is poised to rapidly increase profitability, expand market share, and significantly increase output in support of its clients all of the world.
The company has 18 company-owned facilities across North America and Europe that are uniquely designed to facility all aspects of client needs.  With uplifting/assembly, repair, maintenance, and sales all handled under one roof.  Lift Manufacturing prior to upfit to vehicle chassis is handled out the the company's world class facilities in Waco, Texas and Farso, Denmark shipping units domestically in USA and across Europe respectively.  Each facility also designates a certain number of units to ship to the more than 60 countries served.
late in 2018, Time Manufacturing through its Versalift Brand established a landmark joint venture with Xuji Electric, a subsidiary of State Electric Grid Corporation. The American bucket truck manufacturer and the Chinese energy giant will work together to develop an insulated aerial lift factory in China in order to manufacture and assemble bucket trucks to be distributed throughout the Chinese market and to other countries in the region. This joint venture agreement is evergreen, and will result in thousands of additional Versalift aerial lifts produced annually.
Time Manufacturing Company is particularly proud of their relationships with their Third Party Distributors.  Unique in the industry these distribution relationships allow Versalift Aerial Lifts to be shipped to and mounted to chassis across more than 40 locations around the world. Additionally, these agreements allow Versalift's to be serviced and maintained at more than 200 locations around the world.
GROWTH
Time Manufacturing is in rapid growth mode both inside and outside of the United States.  The company is rapidly growing its market share with clients in the Telecommunications, Electric Utility, Sign, Light, & Traffic, Forestry and Bridge Inspection industries.  In 2018 alone, more than 5 acquisition have led to increased profitability and a vastly better balanced footprint across the Central and Southeastern United States.
Global Presence
Time Manufacturing Company is growing. The company has 18 corporate run facilities around the world that feature more than 750,000 square feet of manufacturing space, more than 1,000 employees, and greater than 250 certified service centers. Time Manufacturing Company continues to develop international relationships through its Latin American, European and International sales groups. Unique to the industry, the company sells through 3rd Party Distributors in more than 63 countries. Time Manufacturing Company has an evergreen relationship with XJ Electric, a subsidiary of the China State Grid to manufacture, upfit and distribute Aerial Lifts for the rapidly growing economy of China.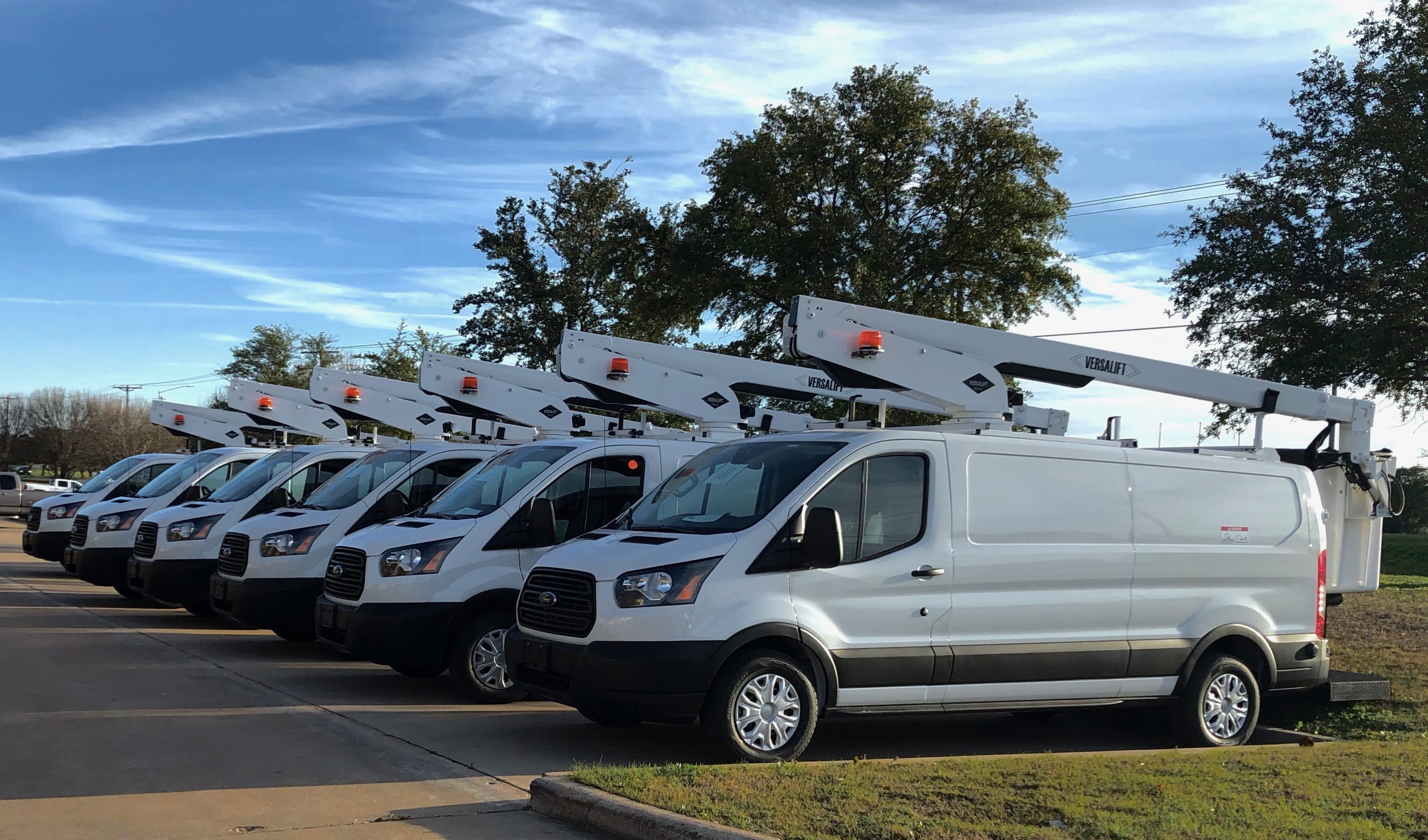 Aerial Lifts | Versalift
Time Manufacturing Company's flagship aerial lift brand is Versalift, a global manufacturer of vehicle-mounted aerial lifts ranging from 29' – 215' of vertical reach, cable placer vehicles and digger derricks. The Versalift brand has been built, over fifty years, upon the promise of safety and reliability. Manufacturing operations in Waco, Texas and Farso, Denmark support Versalift aerial lift customers across North America, Europe, Asia and Africa. Through a global network of eighteen wholly-owned distributors, the company sells to, services, and provides warranties and financing for major electric utility distribution and telecommunications providers, other fleet organizations, government entities, cooperatives, municipalities and contractors.
Bridge Inspection | Aspen Aerials
Time Manufacturing Company's bridge inspection unit is called Aspen Aerials. Headquartered in Duluth, Minnesota, Aspen Aerials is the market-leading bridge inspection equipment manufacturer in North America. Offering a line of seven models of bridge inspection truck, the company predominantly works with government entities, bridge engineering companies, railroads and fleet rental organizations. Founded in 1995, Aspen Aerials has dominated its market by building bridge inspection equipment that does not require outriggers. This advantage allows greater efficiency and less restriction of vehicle and pedestrian traffic. Aspen Aerials is currently focused on expanding into several European markets.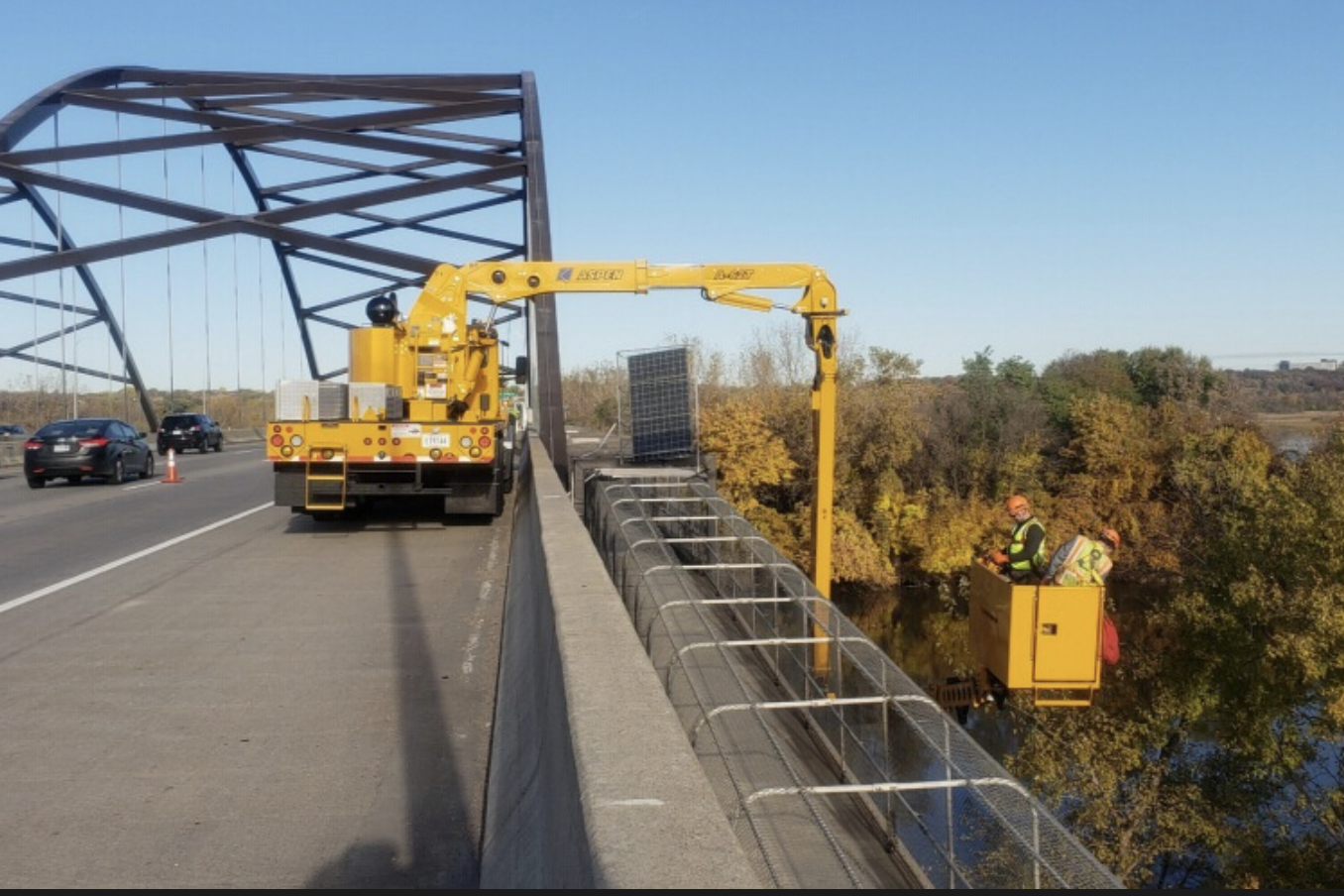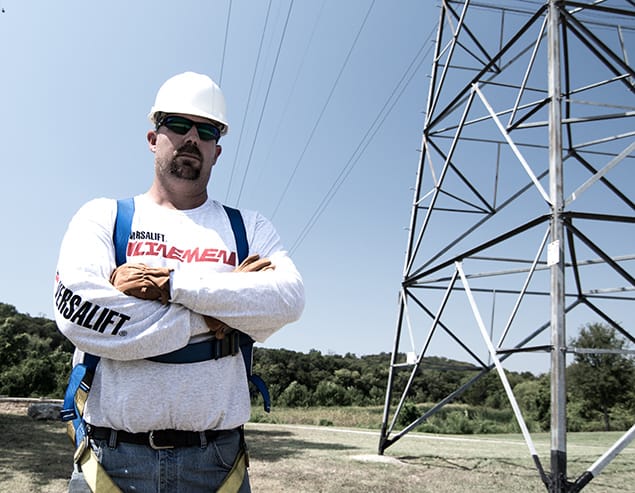 About Us
The story of Time Manufacturing Company is one of growth, innovation and international expansion. The company was officially founded in 1968 in Waco, TX, and began working with Michigan Bell and major telecommunications companies in 1972. Time Export was founded in Farso, Denmark in 1985, and the nineties brought company-owned distributors in the UK, France and BeNeLux region. Time Manufacturing has a rich history of innovation that has repeatedly shaped the aerial lift industry in North America and beyond. For example, the Articulated Telescopic Aerial Lift, which is ubiquitous now, was invented in our building. Time Manufacturing Company is building upon its history of growth and innovation to continue expanding internationally. With a broad line of market-leading bucket trucks, cable placers, digger derricks and bridge inspection equipment, the future is very bright for our company.
Leadership
Time Manufacturing Company is led by a group of veteran manufacturing, supply chain, engineering and operations experts. With a dedication to efficiency and quality, the team is headed by CEO, Curt Howell, whose decades of manufacturing & leadership experience have strengthened the company. Jay Jeffrey, COO & President, & James Christian, VP, Engineering have both been with the company for more than 30 years. Lance Reinhard, CFO and Robert Martz, VP Manufacturing round out the cohesive and experienced leadership team. Together, the team's work creates a deep and abiding sense of continuity for the growing company, which currently numbers more than 1,000 employees.